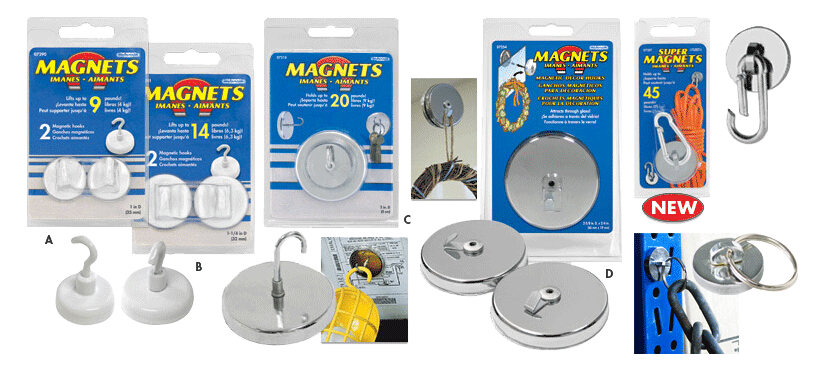 Magnetic Hook is small and strong in power. It can hang store signage, decorations and displays. Useful for suspending banners or wiring for lights or sound. Coated with white enamel paint, these hooks blend well with most decor. Choose from 9 lbs. or 14 lbs. pull strength.
A. 14 lbs. pull strength, 2 pcs.
B. 9 lbs. pull strength, 2 pcs.
A powerful magnetic assembly with unlimited shop uses. Perfect for hanging a drop light underneath an auto hood, or tools, keys, utensils and more from any ferrous metal surface. This hook lifts up to 20 pounds in a vertical test, and includes a special liner to prevent surface scratches.
C.
Magnetic Wreath Hook
They hold through glass! Simply place a magnet on each side of the glass, then hang the decoration. Can be used with single pane windows or as single hooks on metal doors. Additional hook, instructions and hardware are included. Protective coating helps prevent scratching. Recommended use for single pane windows only.
D.
Magnetic Carabiner Hook
Super strong neodymium magnet assembly with easy-clip carabiner hook has 45 lbs. pull. Use to hang heavy items to metal walls, beams and cabinets. This powerful hook works well in workshops, office or garage.
E. 1.125 "
Powerful Magnet with Attachment Ring
Neodymium magnet with attached keyring is super powerful! Use to hang keys or rope/chain with signage for offices or stores. Includes a non-scratch liner. Lifts up to 35 pounds.
F. 1" diameter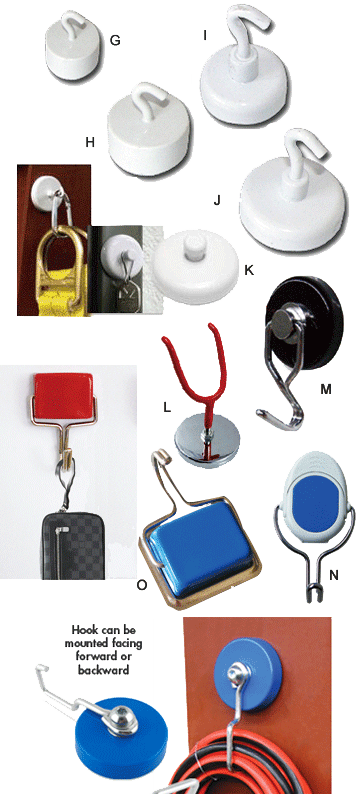 | | | | | |
| --- | --- | --- | --- | --- |
| Letter No. | Part No. | Description | Magnet | Lbs.Pull |
| G | NMF8501 | Dia. 20mm,white coated | Neodymium | 18 lbs. |
| H | NMF8502 | Dia. 30mm,white coated | Neodymium | 61 lbs. |
| I | NMF8503 | Dia. 47mm,white coated | Ferrite | 26 lbs. |
| J | NMF8504 | Dia. 63mm,white coated | Ferrite | 55 lbs. |
| K | NMF8505 | Dia. 32mm,white coated | Ferrite | 14 lbs. |
| N | NMF8506 | 85กม50mm,plastic covered | Neodymium | 15 lbs. |
| M | NMF8507 | 58กม35mm,black coated | Ferrite | 6 lbs. |
| L | NMF8508 | Dia. 81mm,chrome plated | Ferrite | 95 lbs. |
| / | NMF8509 | Dia. 36mm,white coated | Ferrite | 18 lbs. |
| / | NMF8510 | Dia. 50mm,white coated | Ferrite | 40 lbs. |
| / | NMF8511 | Dia. 57mm,white coated | Ferrite | 50 lbs. |
| / | NMF8512 | Dia. 15mm,white coated | Neodymium | 9 lbs. |
| / | NMF8513 | Dia. 25mm,white coated | Neodymium | 36 lbs. |
| O | NMF8516 | 34กม26กม13 mm | Ferrite | 4 lbs. |