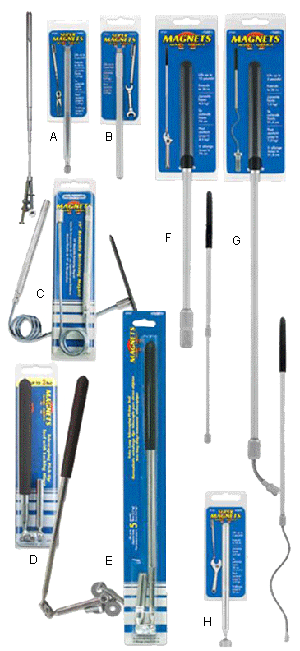 Telescoping Pickup/Pointer
Each has a powerful neodymium magnet in the tip. Great for retrieving nails, screws, washers, nuts, bolts, key rings and more. Doubles as a presentation pointer with a handy pocket clip attached.
A.Extends to 25", 3 lbs. pull.
H. Extends to 23", 7 lbs. pull.
Pocket Pickup Magnet
A fabulous impulse buy at hardware and automotive retail stores, and popular with mechanics who work on transmissions. The neodymium magnet in this tool will lift up to 2 pounds. Includes convenient pocket clip.
B.
Bend-it Magnet
19 inches long. Can be bent to reach almost any location. Use to retrieve lost items from engines, dashboards, drains and vents. 2 lbs. pull.
C.
Lightweight MagneticPickup Tool
Extend to 14" and 24" respectively. Each contains a magnetic tip made from Neodymium, the strongest magnetic material available, plus a sturdy body with grip handle. Adjustable locking hinge allows access around corners or in areas where an unusual angle is necessary for object retrieval.
D. Extends to 14", 3 lbs. pull.
E. Extends to 24", 5 lbs. pull.
Extra Long Extendable Pickup Magnet
Features a vinyl handle grip, durable aluminum tubing and a powerful neodymium magnet that can retrieve heavy tools, nuts, bolts and other items that are out of reach. Loosen knurled collar and pull to required length. Tighten collar to keep length.
F. Extendable Rigid Pickup Magnet extends from 17" to 30", 10 lbs. pull.
G. Extendable/Bendable Pickup Magnet extends from 20" to 36", 3 lbs. pull.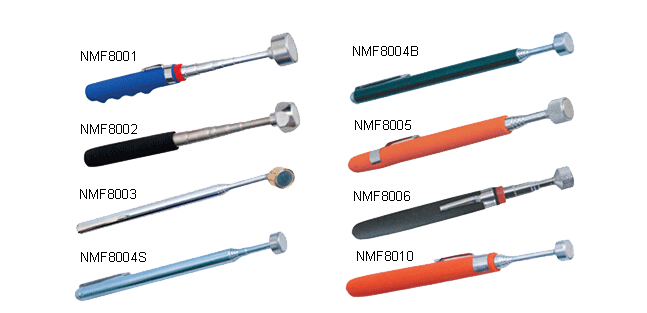 NMF8001 20 lbs.Pull 19-72.5cm Self Length
NMF8002 15 lbs.Pull 19-72.5cm Self Length
NMF8003 5 lbs.Pull 13.5-60.5cm Self Length
NMF8004S 5 lbs.Pull 14-61cm Self Length
NMF8004B 5 lbs.Pull 14-61cm Self Length
NMF8005 8 lbs.Pull 17.5-65.5cm Self Length
NMF8006 8 lbs.Pull 16.5-62cm Self Length
NMF8010 5 lbs.Pull 13.5-60.5cm Self Length