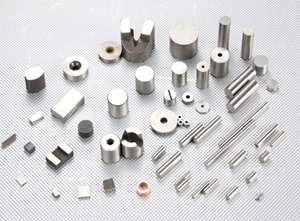 Features:
¡ñ Wide range of complex shapes and sizes at an economical cost, ideal for high temperature applications up to 550¡æ
¡ñ Good corrosion resistance density ranging from 6.9/cm3 to 7.39/cm3. A typical hardness of 50 Rockwell C, Machin-able only by grinding.
Applications:

Automotive, Sensors and instruments, audio apparatus, electric motors, educational equipment and aerospace equipment.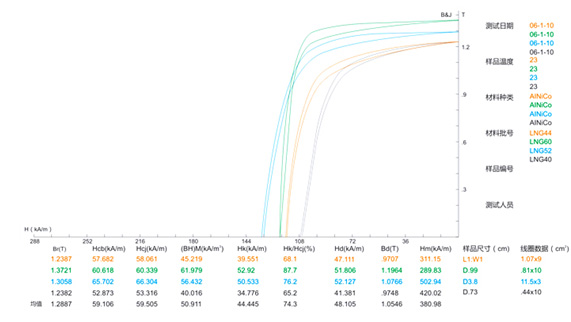 Specifications:
Grade

Br

Hcb

(BH)max

¦Á(Br)

¦Á(Hcj)

mT

Gs

kA/m

Oe

kJ/m3

MGOe

%K

%K

LN10

600/6000

40/500

10.00/1.20

-0.02

0.03

LNG12

700/7000

44/550

12.00/1.50

-0.02

0.03

LNG13

680/6800

48/600

13.00/1.63

-0.02

0.03

LNG18

900/9000

48/600

18.00/2.25

-0.02

0.03

LNG37

1200/12000

48/600

37.00/4.63

-0.02

0.03

LNG40

1250/12500

48/600

40.00/5.00

-0.02

0.03

LNG44

1250/12500

52/650

44.00/5.50

-0.02

0.03

LNG52

1300/13000

56/700

52.00/6.50

-0.02

0.03

LNG56

1300/13000

58/720

56.00/7.00

-0.02

0.03

LNG60

1330/13300

60/750

60.00/7.50

-0.02

0.03

LNGT18

580/5800

90/1130

18.00/2.25

-0.02

0.03

LNGT30

1100/11000

56/700

30.00/3.75

-0.02

0.03

LNGT32

800/8000

100/1250

32.00/4.00

-0.02

0.03

LNGT38

800/8000

110/1380

38.00/4.75

-0.02

0.03

LNGT44

850/8500

120/1500

44.00/5.50

-0.02

0.03

LNGT48

900/9000

120/1500

48.00/6.00

-0.02

0.03

LNGT60

950/9500

110/1380

60.00/7.50

-0.02

0.03

LNGT72

1050/10500

112/1400

72.00/9.00

-0.02

0.03

LNGT88

1100/11000

115/1450

88.00/11.00

-0.02

0.03

LNGT36J

700/7000

140/1750

36.00/4.50

-0.02

0.03

LNGT52J

900/9000

140/1750

52.00/6.50

-0.02

0.03